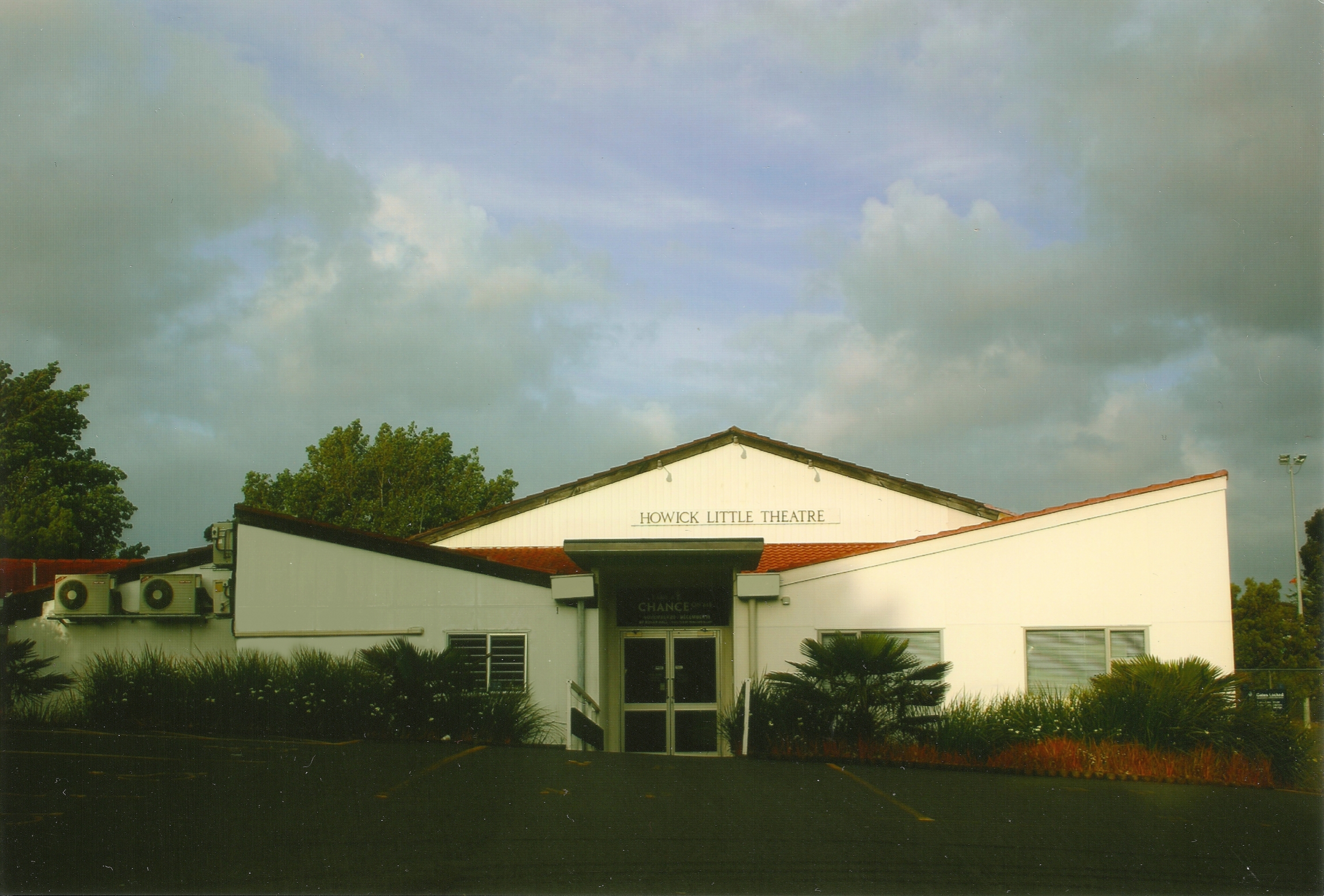 For Sale
Playscripts for sale
Howick Little Theatre has the following production sets of play scripts for sale at considerably reduced prices (plus postage and packaging). All scripts are as new. For more details or to arrange purchase or make an offer, contact the office on 534-1401 or by email.
KEVIN'S BED


A comedy by Bernard Farrell/Ireland. Cast: M5, F7
Nine copies (as new). Sale price $90.
A sell-out for HLT. Kevin's Bed is a play of nostalgia, expectations and broken dreams. The setting is the celebration of the golden wedding anniversary of Dan and Doris - a time for them to return to their old house, join in their celebrations, contemplate a life in disarray and remember the joy of their silver anniversary - the Sonny and Cher days, the optimism and the expectations they had of their sons, John and Kevin. 
THE MYSTERIOUS MR LOVE
By Karoline Leach/UK. Cast: M1, F1.
Four copies, as new. Sale price $90 (new price $138)
A sell-out for HLT. Mr George Love is a gentlemanly diplomat, polite and charming, or so he would have you believe; in fact, he is a fortune-hunter, marrying vulnerable young women and stealing their nest-eggs. At first, Adelaide Pinchin, an overweight milliner lacking in confidence, seems like just another of his victims, but then the unexpected happens; Mr Love begins to feel emotionally involved with her. From this point, the plot twists and turns in many surprising ways until it reaches a chilling conclusion.... Period 1912.  
STRANGERS ON A TRAIN
by Craig Warner (from the novel by Patricia Highsmith). Cast: M5, F2.
Nine copies (as new). Sale price $200. (new price $303) 
A sell-out play for HLT. America, the 1950s, and two young strangers meet in the dining-car of a train. Guy Haines is an ambitious architect heading for divorce and a new job at Palm Beach. Charles Bruno is a charming but spoilt playboy on his way to Santa Fe. Over a few scotches, the men's tongues start to loosen and they feel that they "can say anything they like". Charles proposes the perfect murder: he will kill Guy's unfaithful wife and in return he suggests Guy could knock off his hated father. Amused, Guy leaves, never expecting to see Charles again. Then suddenly Guy's wife ends up dead. Was it a terrible coincidence or is Charles behind it? This brilliant psychological thriller was made into a famous Hitchcock film.
OFFICE HOURS
A comedy by Norm Foster (Canada/1996) Cast: minimum M4, F2 (but can be played by 15 actors)
Seven copies as new, $100. (New price $156)
A sell-out for HLT. Office Hours is set in a big city on a Friday afternoon, and features six different offices in which connected stories are unfolding…and why is there a figure skater on a ledge? And more importantly, will he jump in time to make the 6.00pm news? 
DINNER WITH FRIENDS
The winner of the 2000 Pulitzer Prize for Drama, by Donald Margulies/US. Cast: M2, F2.
Six copies (as new). Sale price $100. (new price $148)
Highly successful production for HLT. Two married couples have been best friends for years. In their Connecticut home, Karen and Gabe, are giving a dinner for Beth and Tom, which Tom doesn't attend. It emerges from Beth that he has left her for another woman. Gabe and Karen are almost as crushed as Beth. When Tom shows up at his home in the next scene, he is enraged that Beth broke the news of their breakup in his absence. He rushes over to his friends house to present his side of the story. We then skip five months, as Beth reveals to Karen... that she has fallen in love with an old friend whom she intends to marry. Tom also has found happiness. Later, Gabe and Karen discuss the Tom & Beth situation, as well as their own marriage... clinging to it like the shipwrecked to their raft. 
JAKE'S WOMEN
A top comedy by Neil Simon/US. Cast: M1, F7
Nine copies (as new). Sale price $130. (new price $197)
A popular play for HLT. Jake, a novelist who is more successful with fiction than with life, faces a marital crisis by daydreaming about the women in his life. The wildly comic and sometimes moving flashbacks played in his mind are interrupted by visitations by actual females. Jake's women include a revered first wife who was killed years earlier in an accident, his daughter who is recalled as a child but is now a young woman, his boisterous and bossy sister, an opinionated analyst, his current wife who is leaving Jake for another man, and a prospective third wife. Jake, played by Alan Alda on Broadway, and his women definitely deliver the funniest lines of the season. 
SPEAKING IN TONGUES
An award-winning Australian play on which the film Lantana was based. By Andrew Bovell/Australia. Cast: M2, F2.
Five copies (as new). Sale price $70. (new price $107) 
Critically acclaimed. Winner of the 1997 AWGIE for Best Stage Play, Speaking in Tongues is a compelling and sophisticated drama exploring betrayal, lust and love between men and women in the 1990s. "...stylish, audacious, marvellously satisfying theatre... rich in ideas, utterly diverting in theatricality... complex and exciting...."  
BOOKWORMS
A comedy by Bernard Farrell/Ireland. Cast: M3, F3.
Four copies (as new). Sale price $40 (new price $60).
Bookworms is centred around an all-female book club and their decision to allow men join them for the first time, with husbands invited in. Their daily lives spill over into the book discussions. where suspicions are roused and tempers are frayed. Larry, an out-of-work builder, and Robert, a banker, are struggling in different ways. Ann is showing off her home and trying to be the perfect hostess, while Jennifer isn't used to her position as top-dog being challenged. And poor Dorothy has had a tough time of it recently, and wants to share her literary opinions with the group. But it's becoming increasingly clear that books are the last things on anybody's mind during this explosive evening. 
THE IMPORTANCE OF BEING EARNEST
A comedy by Oscar Wilde/Ireland. Cast: M5, F4.
Ten copies (as new). Sale price $150 (new price $200).
A drama classic. Jack Worthington pretends to be Ernest to avoid certain social obligations. But Gwendolen has fallen in love with him as Ernest – and he with her. Quizzed as to his origins by his aunt, Lady Bracknell, Jack has to admit to being found in a handbag. 
THE PRIORY
A comedy by Michael Wynne/UK. Cast: M4, F3.
Seven copies (as new). Sale price $150 (new price $231).
A few friends. People we like. No craziness. The days of a big blowout are over. Kate is delighted when she finds a house in the country to escape to for New Year's Eve. Gathering together a select group of her closest friends, she is keen to start the coming year afresh. But successful stressed-out thirtysomethings in search of a good time can make for one very fearsome party … and some surprising resolutions. 
ICE GLEN
A touching comedy by Joan Ackermann/US. Cast: M3, F4
Eight copies (as new). Sale price $80.
In this touching period comedy, a beautiful poetess dwells in idyllic obscurity on a Berkshire estate with a band of unlikely cohorts, including an Irish cook, a lovesick gardener and an unlikely playmate. When neighbour Edith Wharton passes Sarah's poems on to a Boston publishing firm, editor Peter Woodburn comes calling. Sparks fly when this unlikely pair faces off, and all get caught in the crossfire. "Beautifully written … a story of nature and change." – Talkin' Broadway. "Funny, moving and witty." – Metroland (Boston)